Small businesses can also make a big impact in their community. At United Way of Southwest Louisiana, we know that you don't have to be a major corporation to make a difference. That's why we're encouraging businesses of all sizes to join our 365 Small Business Circle and help promote positive change for everyone in the community.
As a business owner, you understand the importance of a strong community. The community's strength affects the economy and lifestyles, and it also impacts the ability of your customers to afford your services and products.
By joining the 365 Small Business Circle, your business can contribute to the community's growth and prosperity by paying $1 a day, or $365 per year. This gift can pave the way for a stronger and thriving community.
Businesses that invest in their community increase their brand's value, strengthen customer loyalty and create a meaningful work environment for their employees. By supporting the success of your neighbors, you demonstrate leadership and increase visibility.
Our approach involves helping people become self-sufficient, critical to improving their lives and creating lasting change.
With the support of more than 8,000 individual and 240 company donors in Southwest Louisiana, we are making a significant impact on people's lives by bringing about long-lasting changes. A strong community benefits everyone, including small businesses and the workforce.
Small businesses are approached with multiple requests to support various vital causes such as food security and education initiatives. But donating to United Way of Southwest Louisiana means your contribution will support these crucial endeavors and more through our collective impact, enabling us to invest in Initiatives and programs that create positive and long-lasting changes in four areas: Education, Health, Basic Needs and Economic Mobility.
Our 365 Small Business Circle gives your business the opportunity to participate in affordable philanthropy, drive traffic to your business and have fun in the process.
Make a one-time, annual, tax deductible $365 donation
Host an in-store open house with proceeds benefitting your 365 Membership
Donate a portion of sales from a product or service
Our team is always open to new ideas and we will help in your business on the day a fundraiser is happening!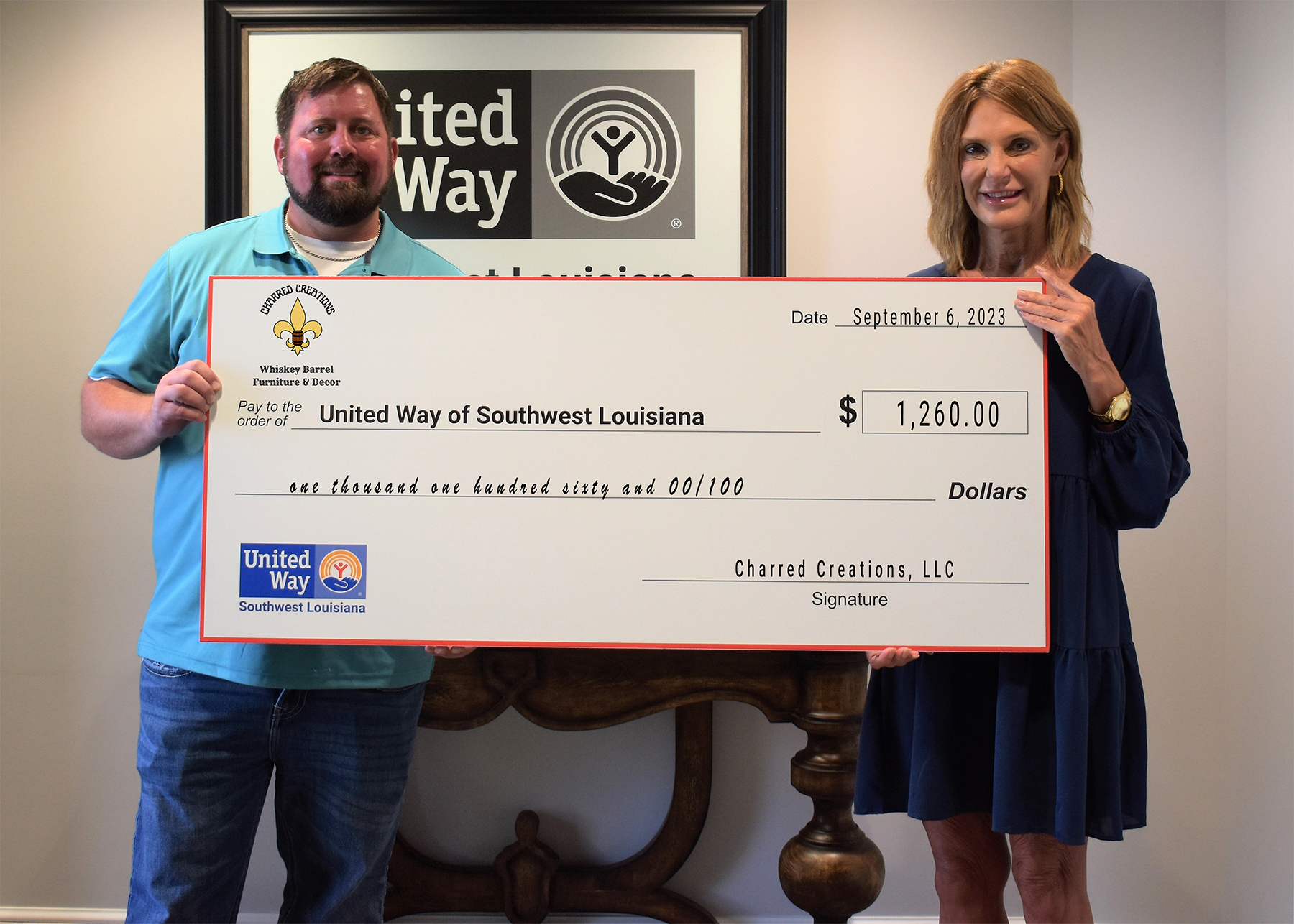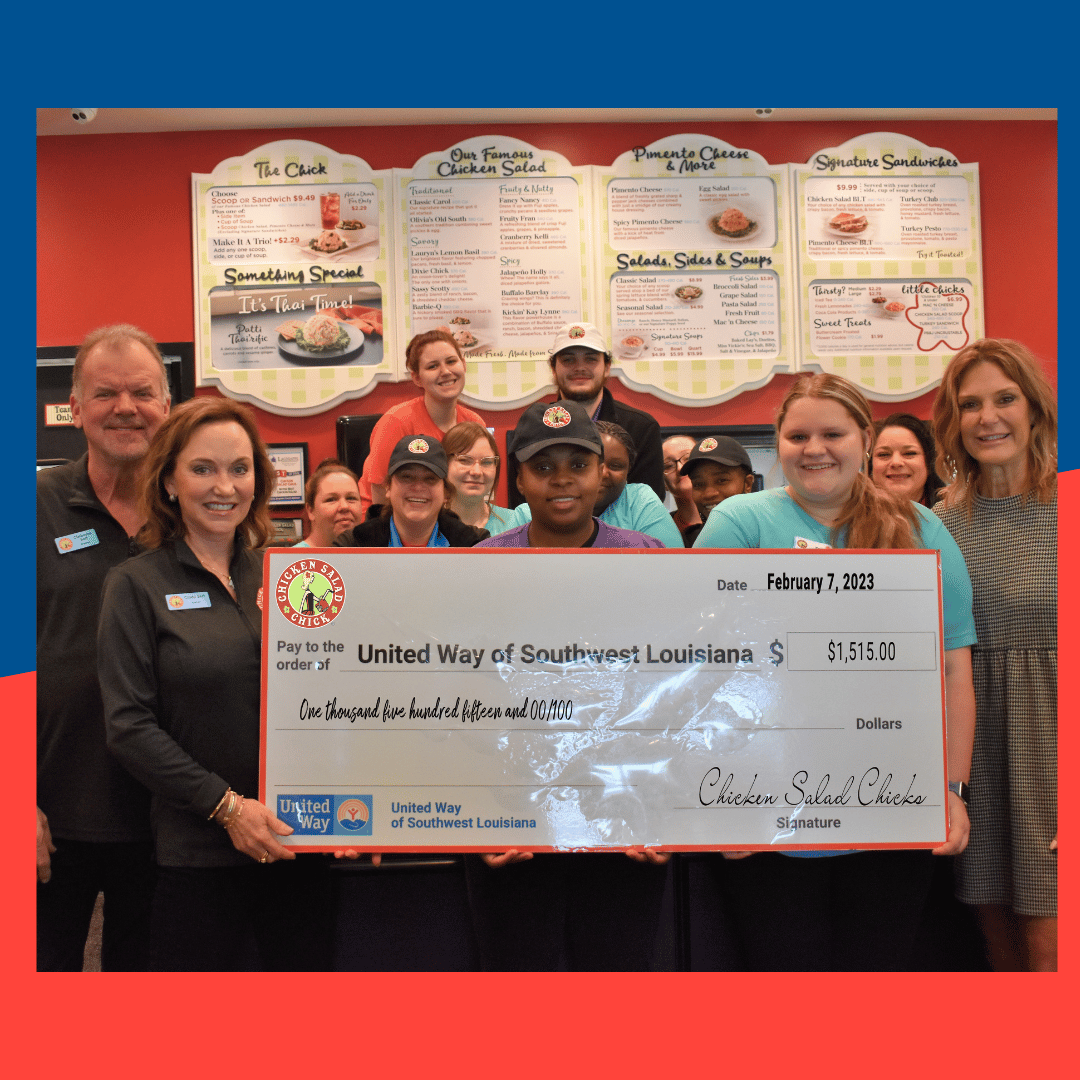 "What sets United Way of Southwest Louisiana apart is that no one is beyond their radar. They have a pulse on every facet of our community and that means if you're a donor, you have a pulse on it too. You don't have to worry that one demographic or neighborhood isn't being served. United Way of Southwest Louisiana sees it all and makes sure people are getting the help that they need."
Cindy Self
Owner
Chicken Salad Chick, Waxing the City, CC's Pawn Superstore
For only a dollar a day, or $365 a year, your business can make an impact in people's lives. Your membership to the 365 Small Business Circle is helping United Way of  Southwest Louisiana improve the quality of life in Allen, Beauregard, Calcasieu, Cameron and Jeff Davis parishes.
DIRECT BENEFITS
365 Small Business Circle Member decal and rights to use 365 logo
Invitation to Networking events with large business leaders, annual events and opportunities for additional networking, social and philanthropic activities like Day of Caring
Be featured on United Way of Southwest Louisiana social media with a special spotlight story about your business
Listing in e-newsletter when featuring the 365 Small Business Circle
Listing and link on UNITEDWAYSWLA.ORG
Listing in United Way of Southwest Louisiana Annual Report