United Way of Southwest Louisiana is looking at the big picture - embracing the entire circle of life focusing on children and youth, families and neighborhoods, seniors and people rebuilding their lives.
OUR MISSION IS POSITIVE COMMUNITY IMPACT.
Our work falls into these four focus areas considered to be the building blocks for a successful life.
Donations are the lifeblood of United Way of Southwest Louisiana. Without the faith placed in us by many people in our community, we could not feed at-risk youth, help the homeless, assist students in reading comprehension and so much more. Each day we are accomplishing things that no one thought possible and it's all because donors have faith in our choices of where to put their hard-earned dollars. We're united to make Southwest Louisiana a safe, healthy and thriving place to live.
We are the social services safety net for our community; creating long lasting change to prevent problems from happening in the future.
Will you consider joining with us as a volunteer? Because we know that when we reach out a hand to one, we influence the condition of all. We invite you to help us continue to LIVE UNITED.
United Way of Southwest Louisiana Initiatives
United Way of Southwest Louisiana has the ability to initiate projects independently in each of our four focus areas. These Initiatives address important community needs we have identified as critical that are not being met. Where there is great need, our goal is to work quickly and help those most vulnerable.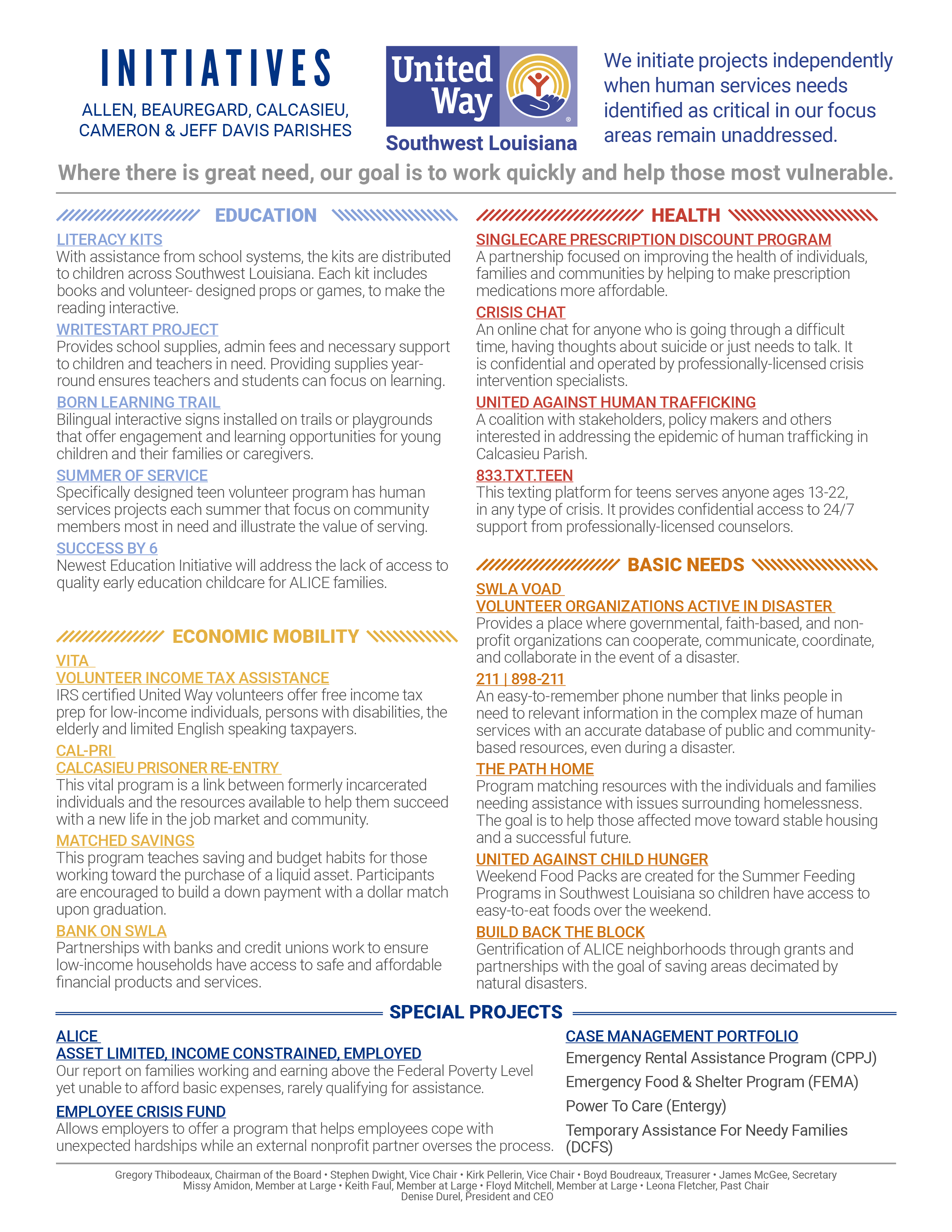 Winter Sheltering 2022 for families with homes not repaired following Hurricanes Laura and Delta
United Way of Southwest Louisiana's Coronavirus Response Fund has supplied over 140 tons of groceries, 60,327 hot meals and answered over 80,000 calls for COVID assistance.