Almost 50,000 people a year enter homeless shelters immediately after exiting incarceration. Returning from jail, prison or juvenile detention places an immediate barrier to stable housing and employment.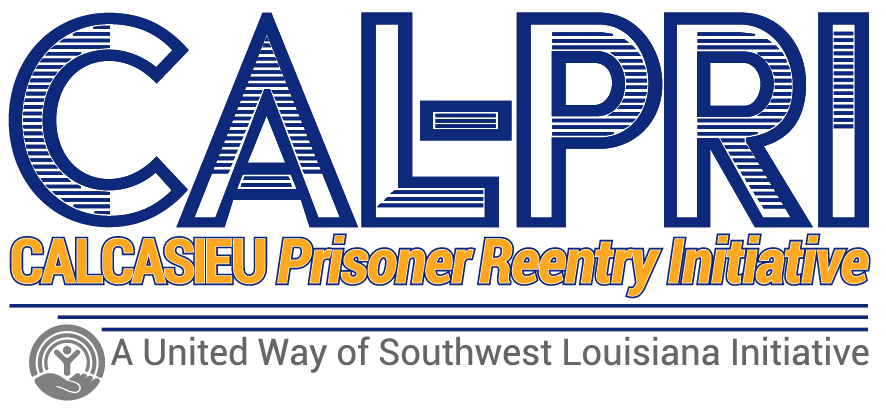 CAL-PRI is part of the Louisiana Prisoner Reentry Initiative, a statewide program providing tools, resources and services needed for returning citizens. The LA-PRI model develops individualized care plans for each offender during incarceration.
CAL-PRI's goal is to address their transition, reintegration and aftercare plans. 
Facilitating dialogue, partnerships and events focused on re-entry
Coordinating efforts to address human services needs
Partnering with community organizations to address issues
Raising awareness and advocating for services for re-entry success
REENTRY SIMULATION
Have you ever wondered what it's like for people who are transitioning from incarceration back into society? They face numerous challenges and difficulties that are often overlooked. Walking in the shoes of those returning home can provide valuable insight for those of us who are responsible for helping these members of our community succeed. 
This simulation aims to help you understand the significant obstacles people face while trying to navigate life upon release and return home. These obstacles can include finding employment, housing and healthcare and re-establishing relationships with family and friends. Additionally, formerly incarcerated individuals may struggle with mental health issues, addiction and the stigma associated with having a criminal record. 
It's essential to recognize that these challenges can be overwhelming and may lead to recidivism if not appropriately addressed. By gaining a deeper understanding of the struggles faced by those returning home, we can take steps to provide better support and resources to help them successfully reintegrate into society.
TUESDAY, DECEMBER 12, 2023
1:30 PM - 3:00 PM
UNITED WAY OF SOUTHWEST LOUISIANA
Registration is closed.
DO YOU HAVE RESOURCES THAT CAN HELP?
FIRST RESPONDERS
FAITH
EMPLOYMENT
LEGAL
HEALTH
WOMEN'S ISSUES
EDUCATION
CORRECTIONS
HOUSING
COUNSELING
Do you have resource(s) that assist formerly incarcerated persons?
The Calcasieu Prisoner Reentry Initiative (CAL-PRI) is comprised of a diverse group of members representing local, state and federal government agencies; community-based agencies; faith-based groups and other individuals who wish to assist re-entering community members in their desire to be successful.
EVERY OTHER MONTHLY MEETINGS
All meetings take place at United Way of Southwest Louisiana
815 Ryan Street, Lake Charles, La 70601
1:30 PM - 3:00 PM
TUESDAY, DECEMBER 12TH, 2023