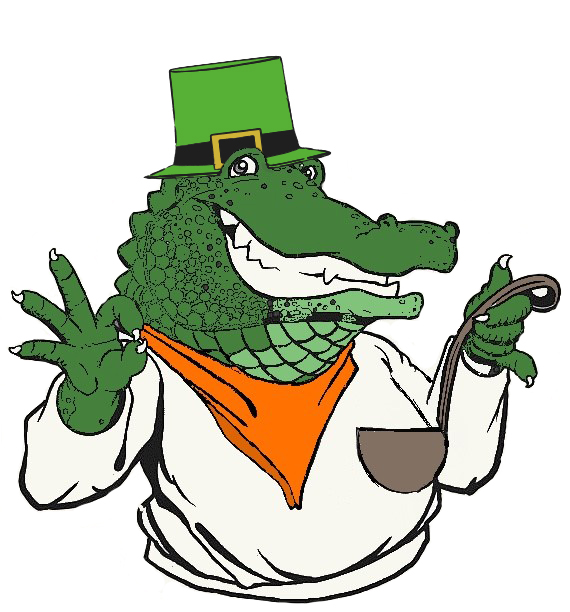 United Way of Southwest Louisiana's Cook-Off, Battle for the Paddle, will be a wee bit o' fun on St. Patrick's Day with jambalaya and pastalaya competitions, kids zone, live music by LA ROXX and of course green beer.
Thursday, March 14, 2024
Lake Charles Civic Center Amphitheatre
Music and Kids Zone is from 5 pm – 8 pm
No ticket is required for viewing the live concert by LA ROXX or allowing children to play at Kids Zone. They will be free and open to the public.
Come sample some of the best jambalaya and pastalaya our region has to offer. Help award the People's Choice for both divisions while they vie for First, Second and Third place paddles.
Wear your best St. Paddy's Day outfits and help us raise money for Southwest Louisiana.
THURSDAY, MARCH 14, 2024 | 5 - 8 PM 
LAKE CHARLES CIVIC CENTER AMPHITHEATRE
TEXT STPADDY to 40403 to volunteer for Battle of the Paddle
SAMPLER TICKET | $15 
Eat until you can't eat anymore. Sample jambalaya and pastalaya from the 30 competing teams. Vote for People's Choice in both divisions. You will also enjoy live music by LA ROXX while you walk around. Does not come with drinks. (Students $10, Veteran's $10, First Responders $10)
VIP LOUNGE TICKET | $50 
Located in the heart of Battle for the Paddle, the VIP Lounge includes all the jambalaya you can eat with drinks like green beer and a great view of the concert by LA ROXX!
STUDENTS  SAMPLER TICKET| $10 with ID 
All you can eat jambalaya and pastalaya and voting for our People's Choice for any student in Southwest Louisiana from college down to elementary. Does not come with drinks.
VETERANS SAMPLER TICKET | $10
FIRST RESPONDERS SAMPLER TICKET | $10
COMPETE FOR THE PADDLE
TWO DIVISIONS FOR THE COOK OFF 
JAMBALAYA 
PASTALAYA
TEAM ENTRY FOR ONE DIVISION | $500
TEAM ENTRY FOR TWO DIVISIONS | $750
UNITED WAY WILL PROVIDE THE FOLLOWING 
• A 10 x 10 area for your team to cook in
TEAMS MUST PROVIDE THE FOLLOWING 
• 10ft x 10ft tent if desired– no larger. 
• Each cooking team is responsible for providing their own containers to dispose of their grease.Those grease containers will have to be taken back with you at the end of the night. United Way will not have grease drums. Do not pour grease in the city drains, trash receptacles or bathroom facilities. 
• Any supplies you will need to cook, set up, etc. No water will be provided on site. 
• Water will not be provided, and all teams should bring the appropriate amount of water needed. 
• In addition, teams will not have access to power on site. If power is needed, please bring a generator that can fit in your allotted space. 
• Each team must have fire extinguishers present at their site. 
• Supplies necessary to give samples to attendees (sample cups, sporks, napkins, serving gloves)
COOKING TEAM LEADERS MEETING 
• Each team is required to have at least one representative attend to review the rules and last minute details. Unloading times will be given out at this time.
COOKING TEAM LOCATION SELECTION 
• Spots (locations) will be selected at the virtual Cooking Team Leader's Meeting. The presenting sponsor, reserves the right to select the first cooking team location, followed by other sponsors (VIP, Entertainment, Lunch, Green, Orange, White levels based on sponsorship amount). Team Entry locations will be determined by lottery after all other sponsors have selected their locations. Companies that have multiple teams (one per company location) can pick for all locations at the same time.
EQUIPMENT & TEAM SPECIFICATIONS 
• Teams are required to cook a minimum of 10 gallons of jambalaya or pastalaya. 
• Maximum of 8 individual members per team 
No exceptions will be made and a team will be disqualified from the judging.
JAMBALAYA & PASTALAYA INGREDIENT SPECIFICATIONS 
• Each team must supply all necessary supplies and ingredients needed to successfully prepare the Jambalaya or Pastalaya. Only the following meats are allowed in any combination: pork, chicken and/or any kind of sausage. ABSOLUTELY NO SEAFOOD! A team will be disqualified from the competition if seafood is used. 
• No par-boiled rice is allowed. All food must be prepared and cooked on site; vegetables and meats can be pre-cut prior to the event. No desserts or sides are needed.
HEALTH CODE AND LIABILITY 
• A health inspector will be on site the day of the event. All teams are to keep jambalaya pots covered when not cooking/serving and keep area clean. Teams are to use serving gloves and keep serving utensils clean/covered. 
• Cooking team (every member) must sign a participation/liability in order to participate in the event. Forms will be emailed to the team captains prior to the event.
JUDGING INFORMATION 
• Each team will receive a designated container that will be used to collect the jambalaya or pastalaya sample. This container will be handed out on the day of the event and must be used when submitting the sample. 
Samples are due to the judging station between 3:50 – 4:15 p.m. No samples will be accepted after 4:15 p.m. The criteria for judging will be reviewed at the Cooking Team Leaders' Meeting. The samples are completely anonymous, and the judges will be isolated from the teams.
AWARDS 
• Awards for Best Jambalaya will be presented to the First Place, Second Place, Third Place and People's Choice cooking teams. 
• Awards for Best Pastalaya will be presented to the First Place, Second Place, Third Place and People's Choice cooking teams. 
• Award for Most Festive Team Decor (tent area) 
• Award for Most Festive Costume 
2023 TEAMS
ALCOA
Arxada
Automotive Alignment
Brown & Root
Entergy Louisiana "High Voltage"
Entergy Louisiana "Wild Legs"
Entergy Nelson Station
GRACE
Investar Bank
Lotte Serves
LyondellBasell
Rain Carbon Inc
Sam Carbis Solutions
STS Industrial
SWLA Veterans Association
Team CITGO
Total Energy Solutions
Turner Industries
Visit Lake Charles
Westlake Corporation